How Modern Consumer Interaction Technologies Can Help Your Retail Store
The thumb rule of good business is to always stay ahead of the game—outdo competition and get a whiff of what your audience wants even before they know they want it. And technology plays a crucial role in this endeavour. One such technology that is enabling big brands to redefine business, marketing and sales strategies is the interactive touchscreen technology that has now found its place on store windows.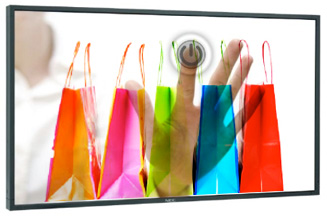 Window shopping just got literal, where stores are implementing this technology to allow their customers to go through their merchandise, pick what they want, and have it sent to them in most cases on the same day. How does this help, you ask?
For one, this technology enables you to conduct business even after hours.
It allows your customers to view your collection before they enter the store. They are likely to stop at an impulse and actually find something they are looking for, or even didn't know they wanted.
Those retailers who are restricted by space and may not be able to put up much on display, but see heavy foot traffic in their stores, can benefit from this technology to boost business and sales.
It can be quicker than online shopping, where the latter takes days whereas the former can take just a few hours.
Lastly, it is excellent advertising for your own business.
Touchscreen technology for store windows also enables your customers to connect with you via leading social media platforms such as Facebook and Twitter. It allows you to update your collection regularly so that your customers know exactly what is available as they merely pass by your store. QR codes can also be included that can be read through mobiles, which will direct them to the company website to place orders. These are often customisable options that can be included if you believe they will help your business.
Installation of touchscreens is simple as long as you are working with the right agency that understands your product, your requirements, and enables you to fully optimize the use of this technology to boost sales. A glass front is all that is needed to enable viewing or purchase of these products. With an interactive interface that is easy to use, complete with instructions, a touchscreen window can be exactly what your business needs to up its game and stand out from the competition.
A few big brands world over have already implemented this system and have boasted of increased revenue over time. These big names include Ralph Lauren, eBay, and Kate Spade Saturday.
Think you absolutely need this technology to promote your business and stay a cut above the rest? Allow PearlQuest to step in and make this a reality. PearlQuest is one of the few agencies in the Middle East that can develop and implement Touch and Multi-Touch screens for retail stores, with focus on interactive and simple yet efficient design. Get in touch with us and we can take this further.